Other Sheltie Activities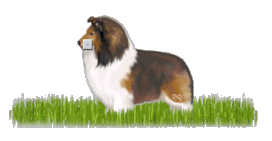 FLYBALL - This is a team activity. Dogs race down a series of jumps to catch a ball from a box and return with the ball to he handler. The team that does this the fastest wins.
North American Flyball Association
HERDING - This is what Shelties were bred to do. If you are lucky enough to have access to this sport, consider trying it. Ducks, geese and sheep are used to test the dog's ability.
American Herding Breed Association
PET THERAPY - The Shelties' often loving nature and size makes them great dogs to visit nursing homes, rehab hospitals, etc. Therapy dogs bring light into on often bleak world. There are various tests and titles within various therapy dog groups.
SPINNING - Well, surprise! Yes, you can spin Sheltie fur into yarn. Sable gives a nice tweedy look. Black give a heather to charcoal gray color. Blue give a misty gray to heather color. Bathe the dog, brush it out and get going. Or you can spin the year and then carefully wash it after.Affpordable and compact spinning wheels are avoablable through Louet - compact and light! For spinning lessons, search on the web or contact your local county fair or cooperative extension office and ask for direction to a hand spinner near you. Look for people who work with sheep, llamas, alpacas and angora rabbits!